Norway Oil Strike Ends Just As Another Is Set to Begin


Home
Energy
Crude Oil
Damir Kaletovic
Damir Kaletovic is a veteran investigative journalist covering Europe and the Middle East, and a senior consultant for Divergente Research.
More Info
Share
Trending Discussions
Norway Oil Strike Ends Just As Another Is Set to Begin
Britain's largest workers union, Unite the Union, threatened strike action on Equinor's Mariner oil platform, the union said on Friday, and yet another strike on Total's North Sea fields is due to begin after the weekend, according to Reuters.
The threat of another strike comes just a day after negotiations successfully wrapped up over another strike in the same area.
Norwegian drilling rigs workers agreed to call off the strike their 10-day strike earlier Thursday after the union representing 1,600 striking employees reached a deal with employer the Norwegian Shipowners' Association, the Safe union confirmed in a statement on its website.
The strike began on July 10 after the Safe union and the Norwegian Shipowners' Association could not come to an agreement over wages and pension conditions. The industrial action led to the shutdown of o ne of Shell-operated field, Knarr filed.
"The strike is over ... All workers will go back to work today," the lead negotiator for the Safe union told Reuters.
A state-appointed mediator managed to resolve the conflict. "Via the state-appointed mediator, a solution has been found ... and therefore the strike is to end immediately," the Norwegian Shipowners' Association said in a statement.
As Western Europe's biggest oil producer, Norway pumps about 2 million barrels per day. The Knarr field had a daily output of 23,900 barrels of oil and 3,500 barrels of natural-gas liquids a day in April, according to the latest available public figures cited in Bloomberg. The strike had limited impact on Norway's output, affecting about 1 percent of its production, but some drillers warned of possible contract cancellations if the dispute goes on for a month or more.
Some other oil rigs involved in drilling or exploration, and support vessels were also a ffected, rather than producing platforms.
Royal Dutch Shell operates the 23K bbl/day oil field with 45% stake with its co-partners Idemitsu from Japan, Germany's Wintershall and DEA. After a deal was reached, Shell says it is prepared to restart the Knarr field.
"Shell can confirm that we have initiated preparations to restart production from Knarr as the industrial action in Norway has now concluded," said Shell spokesman.
By Damir Kaletovic for Oilprice.com
More Top Reads From Oilprice.com:
Goldman: Brent To Retest $80 This Year
OPEC To Rule Oil Markets Till Peak Demand
Is The U.S. Overly Dependent On Russian Oil?
Back to homepage
Trending Discussions
Join the world's largest energy community
with over 10,000+ members
Learn, Share, and Discuss on the OilPrice Community
Damir Kaletovic
Damir Kaletovic is a veteran investigative journalist covering Europe and the Middle East, and a senior consultant for Divergente Research.
More Info
Related posts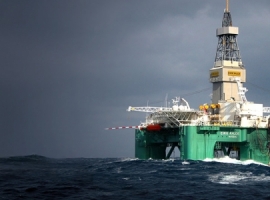 UK Natural Gas Production Falls As Usage Climbs
Ukraine's Natural Gas Transit Woes May Be Easing
What Is Behind Tajikistan's Skyrocketing Fuel Prices?
Leave a comment
Source:
Google News Norway
|
Netizen 24 Norway